SUNCRESTSHEDS 
Email: Suncrestsheds@Gmail.com
863-675-8600
We also accept
Checks By Mail or do
Transaction over the phone.
 We are designers and are  State approved  manufacturer of Florida's premier elegant design garden storage sheds, play houses, pool cabanas and home studio offices.  We have a huge shed selection or can manufacture any to your custom size. We only use the finest materials from premium grade yellow pine built with our outstandingly strong 16 inches on center wall studs, floor joists and trusses completely galvanized steel strapped together ( Simpson Clips ) to meet South Florida's  extreme hurricane resistance requirements. Our buildings feature all pressure treated floor with very tough 3/4 inch PT  Plywood  that can support most cars, boats and motorcycles. We can also build it on a concrete slab as your floor. On your wall we use exquisitely attractive vinyl siding and trims with its beautiful clean lines to give you an attractive dent resistant , sun resistant covering for the exterior of your building with thermy-ply insulation or we can use the very popular, strong and durable concrete based Hardie board or Hardie plank on the wall for a small extra charge. And for your roof we'll use 1/2 inch plywood with 30 grade felt and shingles . You pick the color!  We can manufacture it with a functional and elegant  eave  or without it. Because our structures meet building codes we have become a very popular choice with architects, government and the general public. This is how well constructed these sheds are! So you can have an assortment  of structures that are luxurious such as pool cabanas, play houses or home studio offices or something as functional as a car or motorcycle garage or just simply as a storage shed... given you have the space in your property.  These sheds are state certified up to have  180mph with exposure class D of hurricane wind gust damage especifically assigned to structures for coastal areas.  The HIGHEST state certification on any shed. We are the ONLY shed manufacturer with this approval of exposure class D on their sheds required for structures installed ocean front properties and in the Florida keys. We are completely (Miami-Dade and Broward Counties Approved)  . If you have any questions call us anytime!  
305-200-9300
The only limit to the versatility of this building is your
imagination!
Selecting a size
 Clearly the key is to ensure that your building has enough space and is large enough for its intended purposes, while remaining proportional to the setting of your yard. Think of the purpose and activities that you have in mind to take place in your building, and plan the space out accordingly. Be mindful of your city prerequisites for your yard like setbacks and maximum allowable shed size for your particular property. If you need any help with this   I can help and guide you so your project comes out the way you want it to.
Installation of the shed
 We deliver and install your beautiful shed as part of the price if you live within a 20 mile radius of us. As long as we have unobstructed access to your back yard or property without having to use a crane. In other word! I need to have a double gated door or opening wider than the narrowest part of the building to be able to get it into your back yard. Crane if needed is an extra charge. Call me for quote on crane! For sizes larger than 12 and up to 14 feet wide (no matter length) there is an escort charge of about $500 to be able to have D.O.T allow us to deliver the building to you. On buildings wider than 14 feet there is a different charge on an assembly on site for assembly of that building on your property. If you don't have a concrete slab we set the building on concrete block  to level out the building and to make sure the structure is off the humidity and then we anchor it down with State approved anchors as required.
Exterior and interior Finishing Touches
 It's also important from the beginning to think about the exterior and interior design of your shed, pool house or home office. Things like extra ordinarily attractive porches, partitions, shelves, door and windows, what style and size and how many and where in relations to each other if any. Think about how you may want to design the landscape in the immediate surroundings around the building. Lay gravel, flagstone or other pavers to create a pathway to the door. Strategically place, things like piece of weathered furniture, umbrellas, Shrubs, and trellises with vines and lots of flowers around the building. A little decor will help to define the area and can compliment your design and overall look of your building and can go a long way to creating the style you seek. Your choices for creating the perfect garden storage shed, pool cabana or home studio office are endless.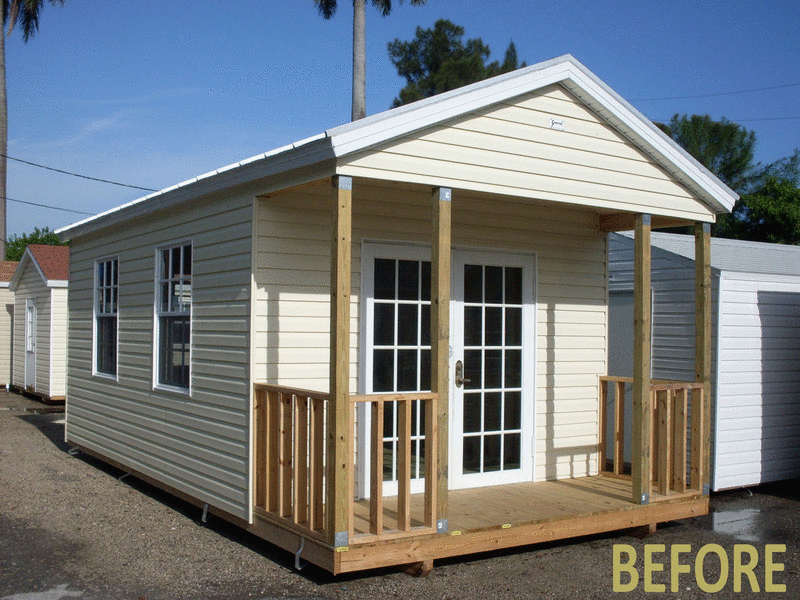 Due to the design of a Suncrest overbuilt construction of 16 inch center, (floor, wall and truss) 1/2in. plywood roof, and industry leading anchoring system the building contains a natural ballast of approximately 50% greater than our competitors, which in turn, helps to prevent this kind of catastrophic damage
FACT: 
have had no reported structural damage due to hurricanes during the past seven active hurricane seasons! We are one of the few shed companies in the State of Florida to be approved with the Dept. of Business Professionals for hurricane wind loads of 180 MPH with(  exposure class D - HVHZ  )(  High Velocity Hurricane Zone  )  Specially assigned for the very tough South Florida code requirements and a certification for coastal areas. And the ONLY one with this class D required in the Florida keys.
Suncrest is your premier shed manufacturer in the State of Florida that can meet ALL of your storage needs! From multi-unit storage buildings to pool houses for your backyard to Dog Houses, Equipment Storage and Guard Shacks or even a home office. If you need to protect it, store it or get it out of the way in the most attractive and durable way possible.
Call us now, we can help!
305-200-9300
Think you can't fit a shed in to the spot that you want it? No worries, we have cranes which can drop your shed over a fence or place it behind trees, wherever you choose! 
Example of a great work shop with 8 foot walls and we encourage our costumers to do the same with our buildings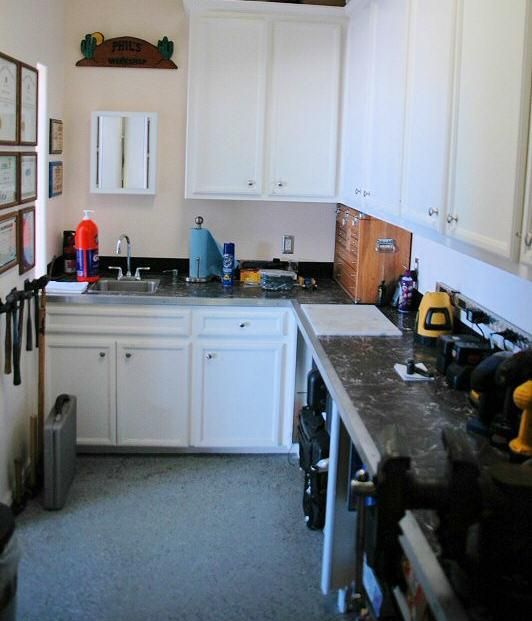 N.O.A.(Approved Engenired Drawing)
State approval letter of acceptance