Benefits to adding a Pool house / cabana 
There are a lot of benefits to adding a pool house like adding a bathroom and a place for changing and a fridge for easily access snacks and drinks and keeping the family and kids from tracking water and dirt through the house, they also provide an out of the way place to store poolside furniture and equipment, and it also provides a cozy place for entertainments. One of the many wonderful things about a pool house/ cabana is that you can enjoy one even if you don't have a pool. Possessing the most desirable qualities of other popular structures gives it an irresistible charm all its own. Along with the charm a pool house has the functional capacity of a shed and for those days of swimming that turn into nights of partying, don't forget the festive lighting. Colorful lanterns or party lights strung up around the building and yard add to the cheerfulness, as do torches, candles and wrought iron create a striking effect as well. the pool house is the ultimate utility building.
 Pool House 
10x18 Pool House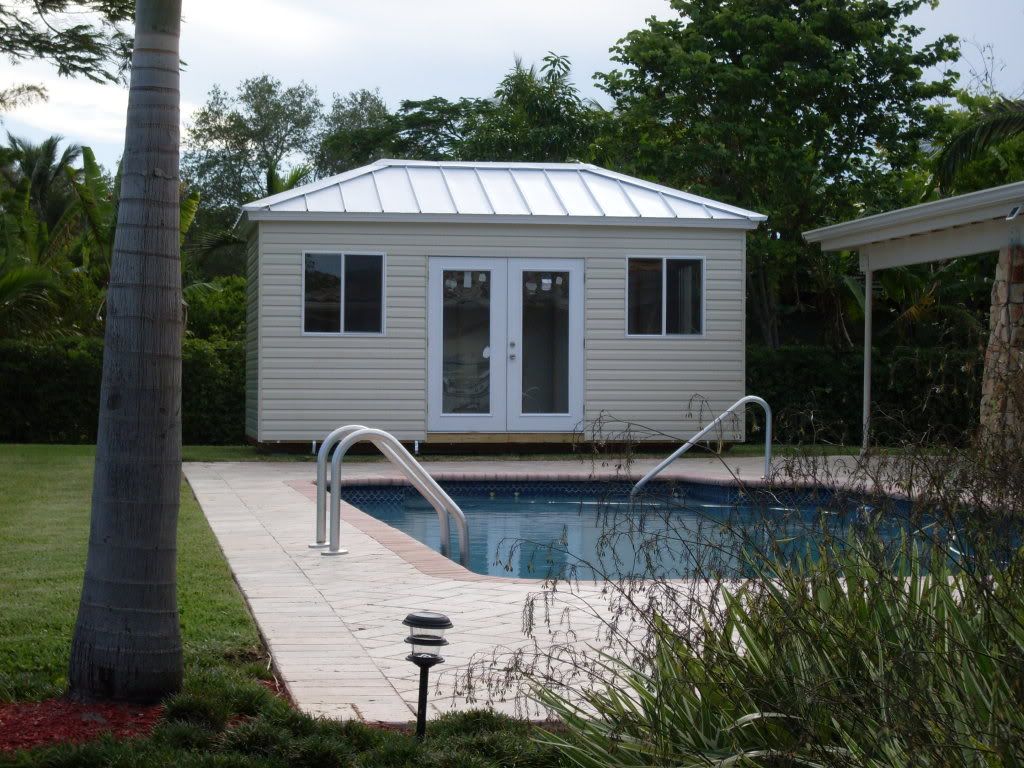 Home office shed/ Studio / Gym
If you need to have a home office or studio you could turn a spare bedroom into an office with all of your equipment and this is great, but what if you don't have the spare room to even consider setting up an office?  Well you could consider an addition to your house. But that will easily cost tens of thousands of dollars, and involves a bunch of permits; builders' running around the house for week's. A much easier solution is building a home office/studio/shed. Something in the size range of 12 ft. by 20 ft would work nicely, certainly enough room to set up an office. You can expect to spend anywhere from $3000.00 to as much as $25,000 for your home office shed.  All depends on how elaborate you want to go, and how big you want it to be.
Keep in mind that in most areas permits are required, and almost anytime you're running electrical and plumbing (you'll likely want a bathroom),and then it changes the definition of the use of the structure from a regular shed to almost that of a house, and all the beautiful hoops that City Government likes you to jump through.  That said, if you happen to have great neighbors then as long as you get a basic accessory building permits, you can essentially install it as a shed and do whatever you want.  Just know that your local municipality could come back at any time and require you to get some other permits or alter the set up. But unlikely as long and you at least get your basic accessory building permit to have it legally installed in your property as a storage shed. That aside, a home office shed is a great alternative to building an addition to your house.  You can build it with one goal in mind, work! Add lots of windows and maybe even a porch ( I strongly recommend that you do choose and use house windows   and house door  for this structure) ( not regular shed windows and door) since they are wind rated and that is one of the requirements to be able to have any structure approved for occupancy. But that is all up to you!  What you'll definitely want, regardless of what you do is have it set up with electric, finished inside, insulated, drywalled, painted and any other finishing details like landscaping and a walkway. You'll want comfortable year round access, so this means installing some sort of air conditioning for hot summer days. You can always later have your phone company come in and wire it for phone and high speed net.
 The best part about building a home office shed is that you could have the entire structure built and furnished in very little time from the moment you order it from us and the structure is installed in your property. And what's great about creating a separate space for you to work in that's not in your house means you'll have a space that's free of distractions, noise and interruptions. A place where you can really focus and get some quality work done.  And there is where you are most likely to come up with some great new ideas to improve your business.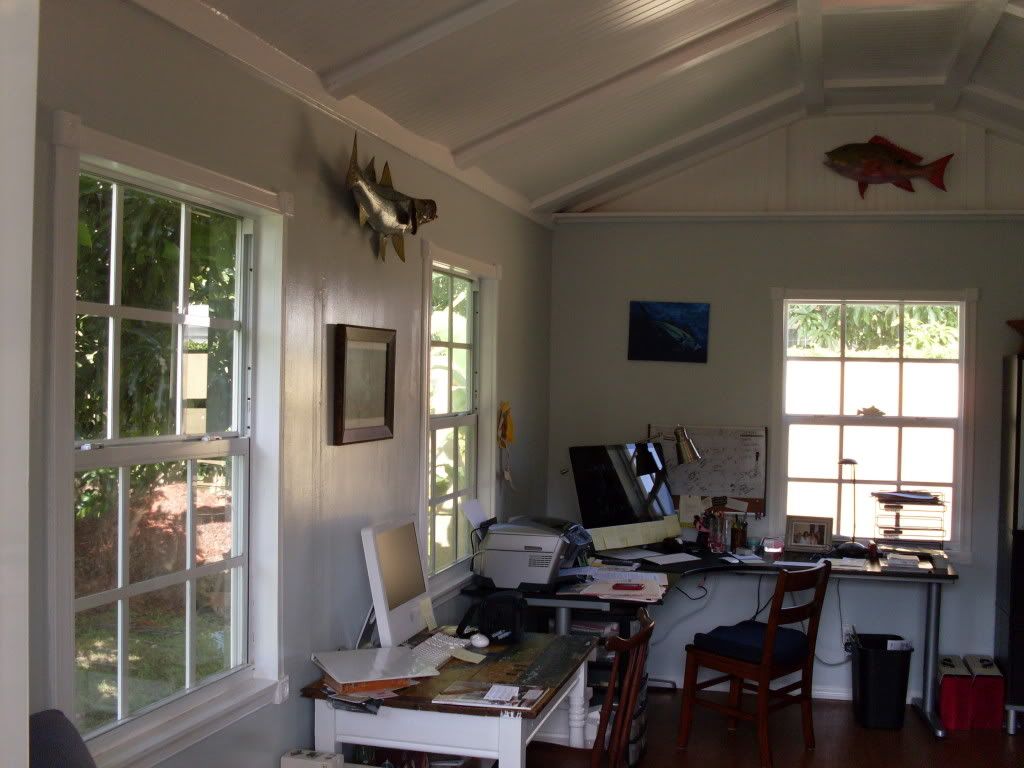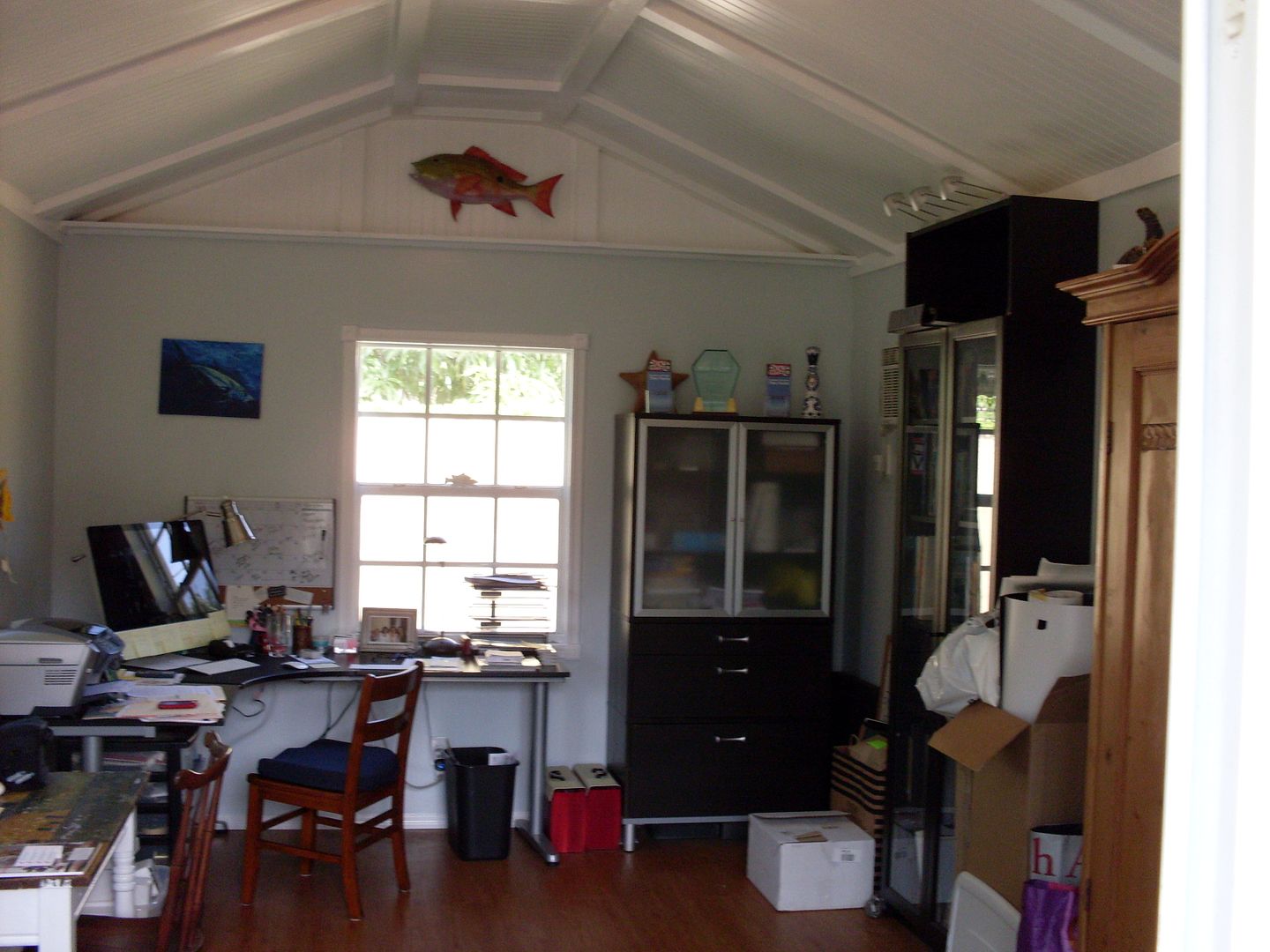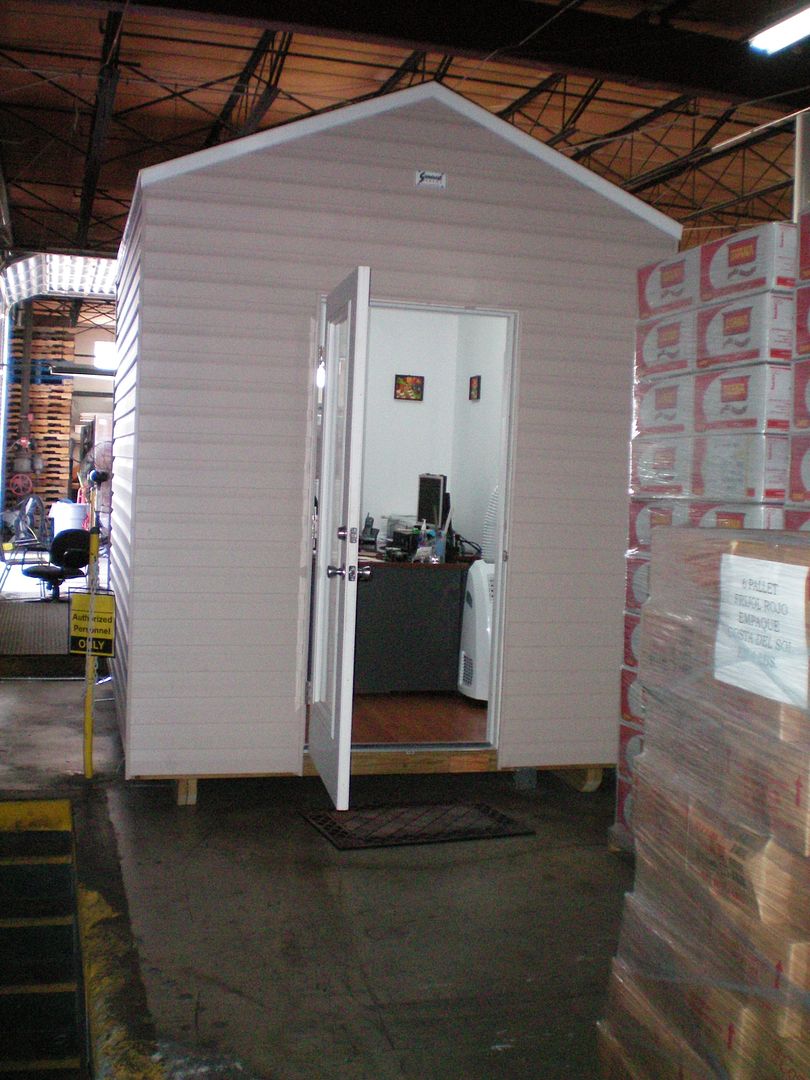 You can rest knowing that your custom building are legal and are Florida Dept of Business Professional Approved  (previourly know as DCA) and given the highest approval given to any building that is 180 mph with exposure class D of gust wind pressure resistance for High Velocity Hurricane Zones . A designation specially assigned to the Florida Keys and for the very tough South Florida coastal code requirements. Suncrest Shed is the ONLY portable building sold in the State of Florida to meet this ( Exposure class D of coastal wind gust tolerance  )approval!
You will find with our competition a certification of exposure class C that is an inferior certified shed.
 OUR BUILDING AT
RIVERBEND MOTORCOACH RESORT
Riverbend is an exclusive class A motorcoach resort community in Alva, FL. that is a lakefront condo RV site which has
our unique finished coach house installed on everyone of their RV lots. Where you can rent or won one of these
spectacular land scaped RV lot property retreats with an out of this world view to a fountain lake, two lake bridges and
the caloosahatchee river.
See these for sale properties with our buildings listed by our friends at Riverbend, Re/Max realty group
of Lee county and realty MSL service