Here is a look inside of our factory, and the
    production process. 
PRODUCTION      
 Suncrest sheds are engineered to comply with the State of Florida Department of Business Professional  regulations to withstand wind loads up to 180 m.p.h. Avail. in two basic designs, which are standard (no overhangs) & premiums (5" overhang on  all sides) or can build one at custom with three sided overhang so It  could places against a wall. The materials have a lifetime warranty against decay and termites. (Be advised: the warranty covers ONLY damage caused by decay by termites of any treated material.)

  FLOOR STATION    
Entire floor component is constructed with .40% pressure-treated yellow pine and ¾" Tongue & Groove PT   Plywood . Wood fastened with NAILS not staples at 16 OC floor on building sizes up to 10' wide 2x4 are used at 16" OC.  On sizes wider that 10' no matter the length 2x6 are uses at 16" OC. Skids are nails and steel straps to floor joists to ensure that the floor maintains its strength for years to come. Straps hidden in construction
WALL STATION      
 Walls measure 7' tall (Custom wall heights avail. up to 8').NOTE: Walls are measured from floor to/ including top plate. 2x4 studs at 16" OC (on center) with pressure treated bottom plate. 1x4 PT cutting cross brace (prevents racking). We also use Structural grade Thermo-Ply that provides insulation value for humidity. All Wall studs connected w/ galvanized steel straps ( Simpson clips) to floor joists and roof trusses. We can also build custom sheds with a very low height so they can be easily hidden behind fences, trees and walls.
    WE BUILT YOUR SHED AT HOME CODE 16 OC. FRAMING
 Click on pic. below to see how the same 16 OC. frame with a cross brace construction we use, and the same Thermo-Ply insulator is used around the country on homes. So! why would you want to have your shed built with less standards from our competitors not building at home code 16 OC. and with no insulator.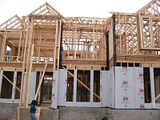 ROOFING STATION      
Roofing Choices of SHINGLES, GALVALUME or BARREL TILE look. 2 x 4 cathedral truss roof with approved truss plates at 16" OC. -- 5/12- roof pitch Standard with ½" CDX 4-ply and 30 grade felt And Owen Corning 3 tab 25 yr.  shingle with white aluminum drip edge. Avail. Owen Corning Dimensional shingles / 25 yr.
Avail. Galvalume standing-seam, mill finish, high wind resistant with its beautiful barrel tile shaped. Ridge vent also avail. on shingle roofs. "Premium" 5" overhang includes white aluminum fascia & white vented soffits
WE ALSO CAN CUSTOMIZE YOU ROOF TO ALMOST ANY PITCH AND STYLE  AND WE OFFER OPTIONS IN STANDARD DUAL GABLE ROOF,
PLUS OPTION IN HIP OR SINGLE GABLE ROOF ( ANY PITCH ) .
OPTIONS IN SHINGLES, GALVALUME OR PERMATILE METAL ROOF , WITH OR WITHOUT OVERHANG
EXTRA OPTIONS IN
GALVALUME METAL ROOF
 BARREL TILE ( PERMATILE) 
HIP ROOF 
 SINGLE GABLE ROOF
 STANDARD DUAL GABLE ROOF 
Different from the rest!
A Custom Building
 A Suncrest Building is not your typical shed made from aluminum like a soda can. Suncrest Buildings are vinyl sided or hardie board claded; Unlike other shed manufacturer we use the highest grade materials for your building. A Suncrest Shed will never, rust, peel, fade, or leak and is extremely dent resistant. Our buildings are the ONLY sheds / portable storage buildings manufactured with a cross brace and thermo-ply insulator on every wall, as required by code for a wood framed home but not required for a shed. All of our building are approved by the State of Florida Dept. of Business Professional to have the very high hurricane wind tolerance of exposure class D ( 180 mph ) assigned to structures in coastal areas and required in the Florida keys.
All building sold at more than very competitive price!
There is no one selling 16 on center frame sheds at our price in South Florida.